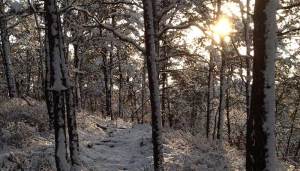 The Crane is a 1,824-acre area purchased by the Commonwealth from the Crane brothers and named in memory of their mother. It is managed by the Massachusetts Division of Fisheries and Wildlife and popular among hunters, birders, dog-walkers, equestrians, trail runners, and mountain bikers, who have built an intricate network of single-track trails (and some hidden "northshore" structures).
The eastern part, near the start/finish area, is a patchwork of field and forest that has been managed to produce ideal quail and woodcock habitat. It is flat and sandy, the product of braided outwash streams from melting glaciers to the west.
Once you cross the unused railroad tracks, you are on the outer part of the race loop which is hilly and boulder-strewn, and traverses some of the highest terrain on Cape Cod at 250 feet. This is a portion of the glacial moraine that extends down the Cape, through the Elizabeth Islands, and eventually to Block Island and Fishers Island. As the glaciers retreated, huge chunks of ice were stranded, surrounded by deposits of boulders, sand, and clay. When the chunks melted, kettle holes formed. These are round depressions 200–500 feet across and maybe 50–75 feet deep, some with vernal ponds in the bottom.
You will pass a nice one your left after the summit of Mt Zig (where an illegal swing is installed, with a glimpse of Buzzards Bay), and you will descend into the corner of a large one right before the steep climb up Mt. Otis. A short portion of the trail runs along an esker, which was initially a gravelly streambed running beneath a glacier, but is now a low, narrow ridge left high and dry when the glacier melted. One of the unique features of this western section is the native pitch pine/oak forest with a knee-high understory of woody bushes, and no bramble or poison ivy.
You may also see evidence of the wells used to monitor the plume of contaminated groundwater that originated on the former Mass Military Reservation (now Joint Base Cape Cod).
Learn more about Crane Wildlife Management Area:
Frances Crane Wildlife Management Area North: Biodiversity Initiative Site Plan
Featured Habitat Projects: Crane Wildlife Management Area Habitat Enhancement
Massachusetts Wildlife Lands: Interactive Map
Learn more about the Division of Fisheries and Wildlife:
www.mass.gov/eea/agencies/dfg/dfw
Visit the agency's Facebook page: www.facebook.com/MassWildlife
Download trail maps from The 300 Committee website:
www.300committee.org/cranewildlife.htm